Steve and Linda discuss how a safety neighbor alerts drivers of a possible pothole peril. There's not a dry eye in Leaky Basement Studios when a sled dog who isn't quite up to racing moves the Pacific Northwest. She is missed by her pack who sends her postcards on twitter. Lastly, we discuss how an infiltration of dockless scooters amuse and infuriate the locals in Arlington, Virginia.
The Whole Cloth:
A friendly neighbor makes it on two different feeds (Reddit and Nextdoor) as the Redditt MVP.
WANKSY – Manchester England- drew penises and found faster fixes.
PORTLAND ANARCHISTS DIY fixes.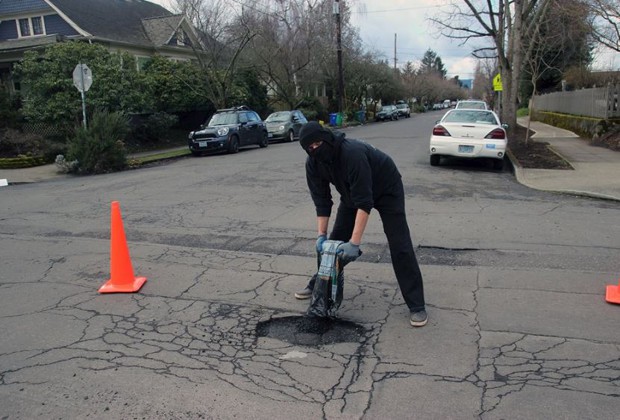 Linda's Quick Stitch
Linda heard of a thread on Pop Culture Happy Hour  by Blair Braverman about her dog, Glory, that moved west because she was not that into racing. Her pack writes her postcards on Twitter which Blair translates. Get your tissues ready. #GloryGoesWest
If you've followed #GloryGoesWest you know that Glory decided not to be a sled dog (she likes people more than dogs, and thinks pulling is boring), so last week she moved to the Pacific Northwest to live with my parents as a pet. pic.twitter.com/6DSphYo1gb

— Blair Braverman (@BlairBraverman) July 26, 2018
Steve's Quick Stitch:
Steve got this thread from a co-worker about how Bird placed dozens of dockless scooters around Arlington, VA without asking the city.   The locals are wondering who thought this was a good idea?
Good Morning, Arlington! #lovebird #enjoytheride pic.twitter.com/WaqNL68bHV

— Bird (@BirdRide) June 24, 2018
Shout out to Sam and Ross Like Things from who we stole their show format. Thanks guys!